Blanket Stories
Artist: Marie WattMedium: Bronze sculptureTacoma Art Museum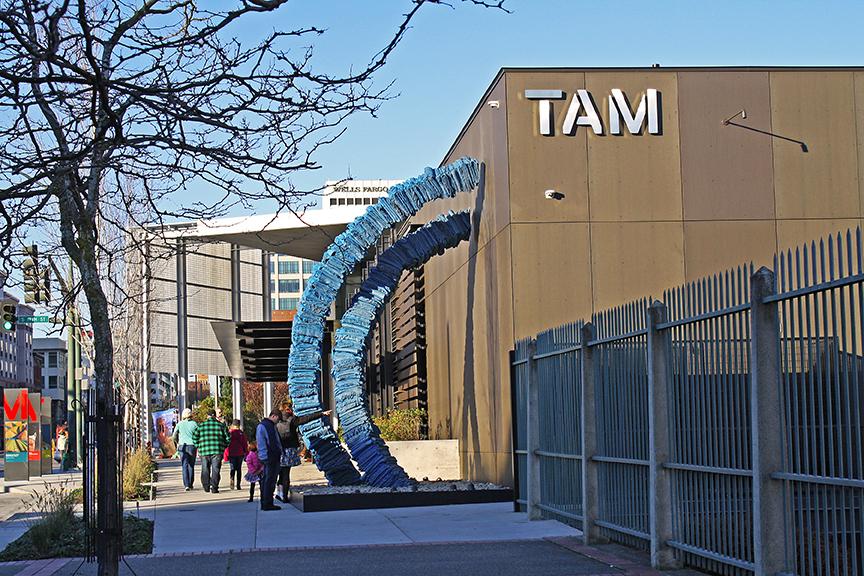 Blanket Stories | Photo courtesy of Tacoma Art Museum
Blanket Stories: Transportation Object, Generous Ones, Trek was created by Seneca artist Marie Watt to mark the opening of the Haub Family Galleries at Tacoma Art Museum in 2014. This cast bronze artwork explores the humble yet significant roles blankets play in our lives across cultures and time.
About the art +
Community members donated more than 350 blankets, accompanied by their stories, to help Watt create this piece. The blankets were then stacked into monumental arched forms, cast in bronze, and installed in a cross that gives the illusion of a folded infinity loop or circles passing through the wall into the museum. The pale blue paint used on the artwork references water and sky, defining elements in our local landscape.
Historical context +
Watt draws on the social and cultural significance of blankets to inspire much of her work. Here, she explains the particular histories that inspired Blanket Stories: Transportation Object, Generous Ones, Trek:
"Transportation Object is the term used to classify cradleboards at the Smithsonian National Museum of the American Indian. Physically and metaphorically, blankets transport us: they receive us when we are born and they shroud us at death. On the western frontier, this transportation object functioned as regalia, clothing, bedding, and currency. Generous Ones acknowledges Tacoma's indigenous inhabitants, the Puyallup and Coast Salish People. The name Puyallup or S'Puyalupubsh means 'generous and welcoming behavior to all people (friends and strangers) who enter our lands.' The phrase 'Generous Ones' also allows us to reflect and acknowledge those who are generous in our lives. Trek reflects on slow journeys, as well as the dynamic confluence and exchange that is a part of migrating and settling."
To learn the stories of the hundreds of blankets donated to create this piece, visit the artist's website.
Meet the artist +
Marie Watt was born in Seattle in 1967 and is an American artist of Seneca and German-Scots heritage based in Portland, Oregon. Her work draws from history, biography, early feminism, Indigenous principles, and memory. She uses commonplace materials like wool blankets, cedar, and iron to create artworks with cross-cultural meanings.