Explorers
Artist: Scott FifeMedium: Bronze sculptureTacoma Art Museum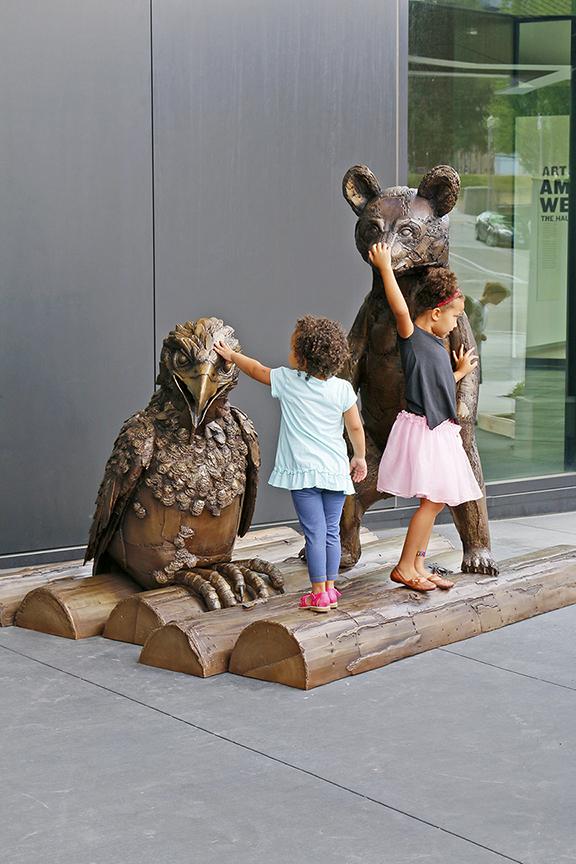 Explorers | Photo courtesy of Tacoma Art Museum
Scott Fife's Explorers delights visitors with two endearing Northwestern creatures—an eaglet and a bear cub—arriving in the "urban wilderness" via raft.
About the art+
Explorers is located outside the main entrance of Tacoma Art Museum (TAM), where its black bear cub and baby eagle greet visitors of all ages as they enter. According to TAM:
"The wild animals find themselves exploring the new urban environment, resettling and serving as a metaphor for the new opportunities found in the American West. The powerful quality of these two creatures is their large scale and size: the cub stands 5 feet tall and the eaglet 3 feet tall. Each creature has been cast in bronze, using a mold taken from forms created by Fife in his iconic cardboard technique and made to resemble chain-saw-carved wood."
Historical context +
Scott Fife's sculpture references both the environmental and cultural history of the West. The piece features animals indigenous to this region that are still around today, and the inclusion of the raft nods to the long history of water travel and exploration in the area. Scott Fife's carved cardboard technique also adds a contemporary edge to the piece, connecting it to folk art and found-object artmaking traditions.
Meet the artist +
Scott Fife is an American artist born in 1949 and based in Seattle. Fife is known for his sculpted portraits created using only cardboard, glue, and screws. He has exhibited his work nationally and internationally.
To see more of Scott Fife's work, visit his website, or watch a time-lapse video of him creating one of his cardboard artworks.