NEXUS
Artist: RYAN! Feddersen Medium: Painted metal, wood, tile, glassCommissioned by the City of Tacoma and funded by the Washington State Heritage Capital Projects Fund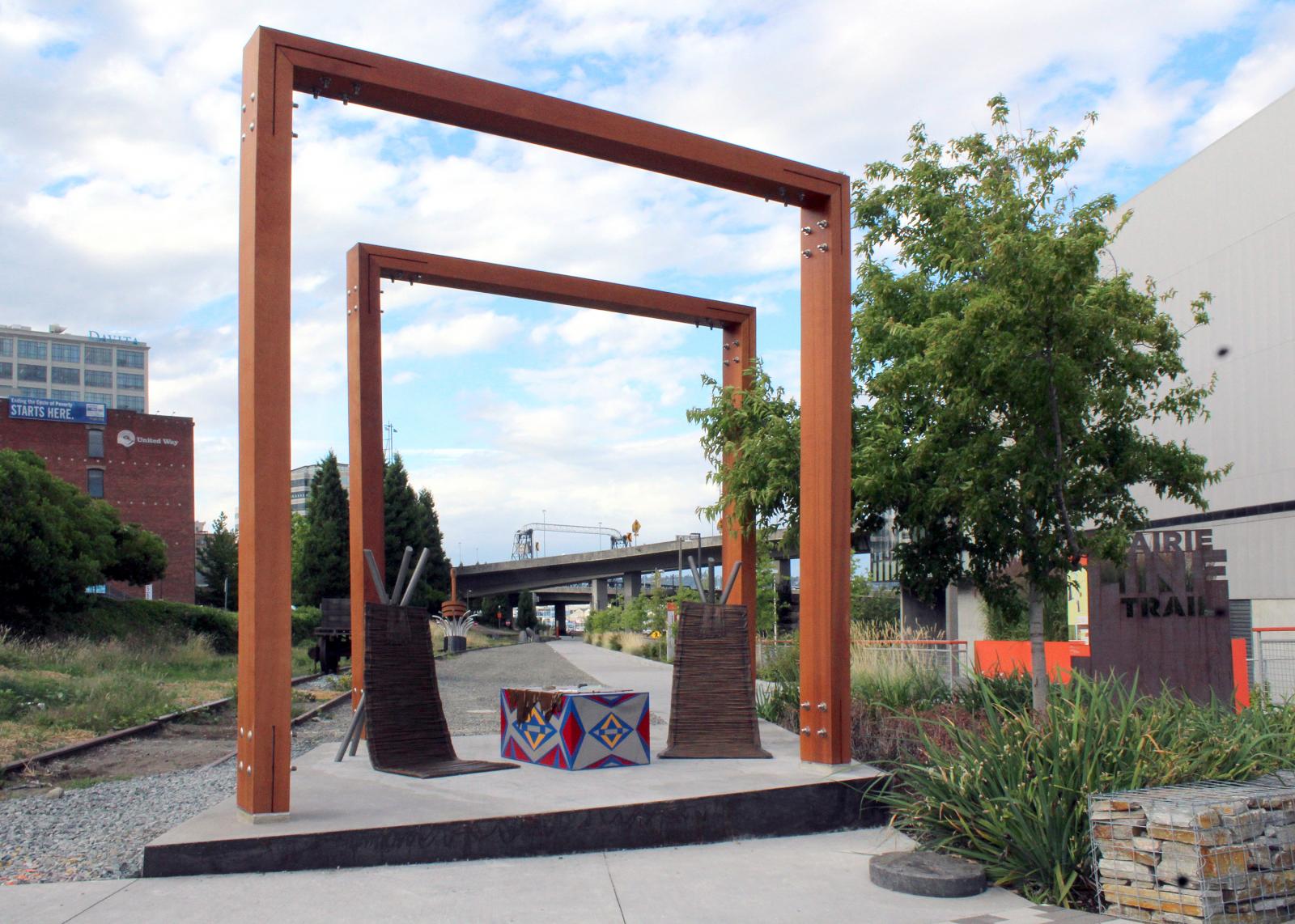 NEXUS, 2018 | Courtesy RYAN! Feddersen
NEXUS features several items central to pre-colonial contact trade between tribes. Sit against the backrests. Imagine what it was like to meet and talk with others in this setting. How is it different from the way you shop today?
About the art+
NEXUS honors the longstanding and complex systems of pre-colonial commerce practiced in this region. Prior to any relationships with settler cultures, the Puyallup people (spuyaləpabš) exchanged goods with tribes across the continent.
A member of the Confederated Tribes of the Colville Reservation, RYAN! Feddersen shines a light on one aspect of Native American cultures that has often been misrepresented in colonialist American history. The artist purposefully designed this work to foster conversation and role-playing among visitors about pre-contact trade.
Historical context+
How did local history inspire this project?
Prior to European contact, the Puyallup people had many permanent village sites along these waterways, and lived sustainably from the abundance of natural resources in the area.
Since time immemorial, trade routes have connected Indigenous peoples all over the continent. This location served as a trade site for many tribes, and the Puyallup traded for goods unavailable in the Pacific Northwest.
Meet the artist+
RYAN! Feddersen is a mixed media installation artist. Her work is characterized by a sense of exploration and experimentation. Many of her pieces utilize tongue in cheek humor accompanied by interactivity, inviting the viewer to engage with the irrationalities and hypocrisies of contemporary American culture. Feddersen is a member of the Confederated Tribes of the Colville Reservation (Okanogan / Arrow Lakes), the Interior Salish community that historically moved trade goods across the Plateau region and had especially strong relationships with the Puyallup and other Coastal Salish tribes.
Speaking about NEXUS, the artist says, "This piece started with the idea of children playing house or store. I love the way the simple act of play can transport you to another time, creating a connection to the deep history of a place."