Sun King
Artist: Thomas Morandi Medium: Bronze sculptureCity of Tacoma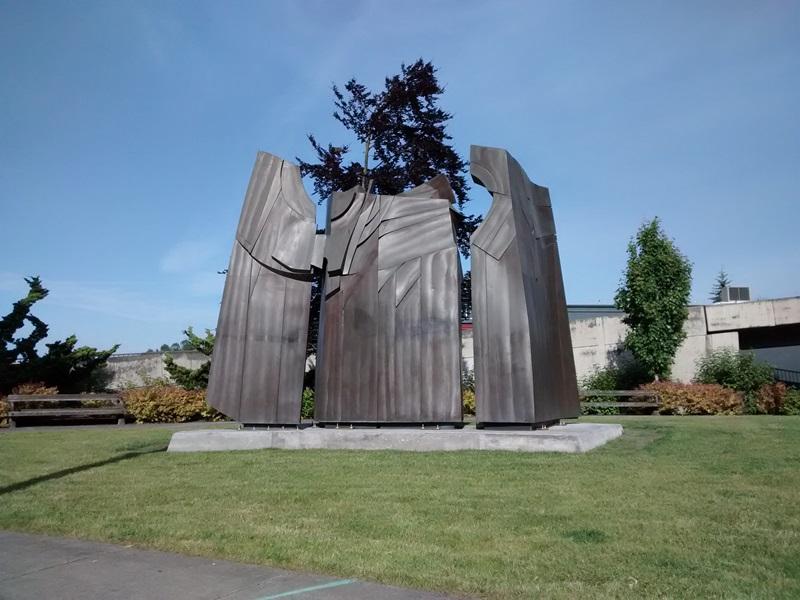 Sun King
One of the first major artworks to be sited along the Prairie Line Trail, Thomas Morandi's abstract bronze sculpture references the Northwest's fleeting but transformational sunbreaks.
About the art+
In 1977, artist Thomas Morandi was selected by a panel to create this massive bronze sculpture, which was intended to provide a focus for the pedestrian space at S. 13th Street and Broadway Plaza in downtown Tacoma. There, the piece was sited between towering buildings amid a sea of concrete.
In 2007, when the location changed ownership, Sun King was moved into storage while the City worked on finding a long-term space to site the piece. In 2014, it found that place along the northern end of the Prairie Line Trail, where the piece can breathe; pedestrians can view the work from all sides; and its scale can truly be appreciated as it welcomes the sun rising over the Foss Waterway.
Context+
In 2014 at the re-siting ceremony, when asked why he titled his public artwork Sun King in a region that is known for its grey and rainy weather, Thomas Morandi told supporters,
"I wasn't being ironic. You know better than I — as well as I, anyway — November through April, it's either raining or about to rain. But every once in a while — a couple of moments maybe, maybe a day or two — the sun comes out and all of a sudden perceptions shift. Things aren't the same as they were before."
Inspired by those brief moments of sun, Morandi created Sun King hoping that it too would help people see the world around them differently.
Meet the artist+
Thomas Morandi was born in 1943 and currently resides in Corvallis, Oregon where he is a metal sculptor and former professor of art at Oregon State University. He has created numerous public artworks across the Northwest, and exhibited his work locally and nationally.
For more information, visit the artist's website.