Where the Rails Meet the Sails
Artist: Rotator (Lance Kagey, Scott Varga, Mark Alvis)Medium: Steel, concrete, and mural paintCommissioned by the City of Tacoma and funded by the Washington State Heritage Capital Projects Fund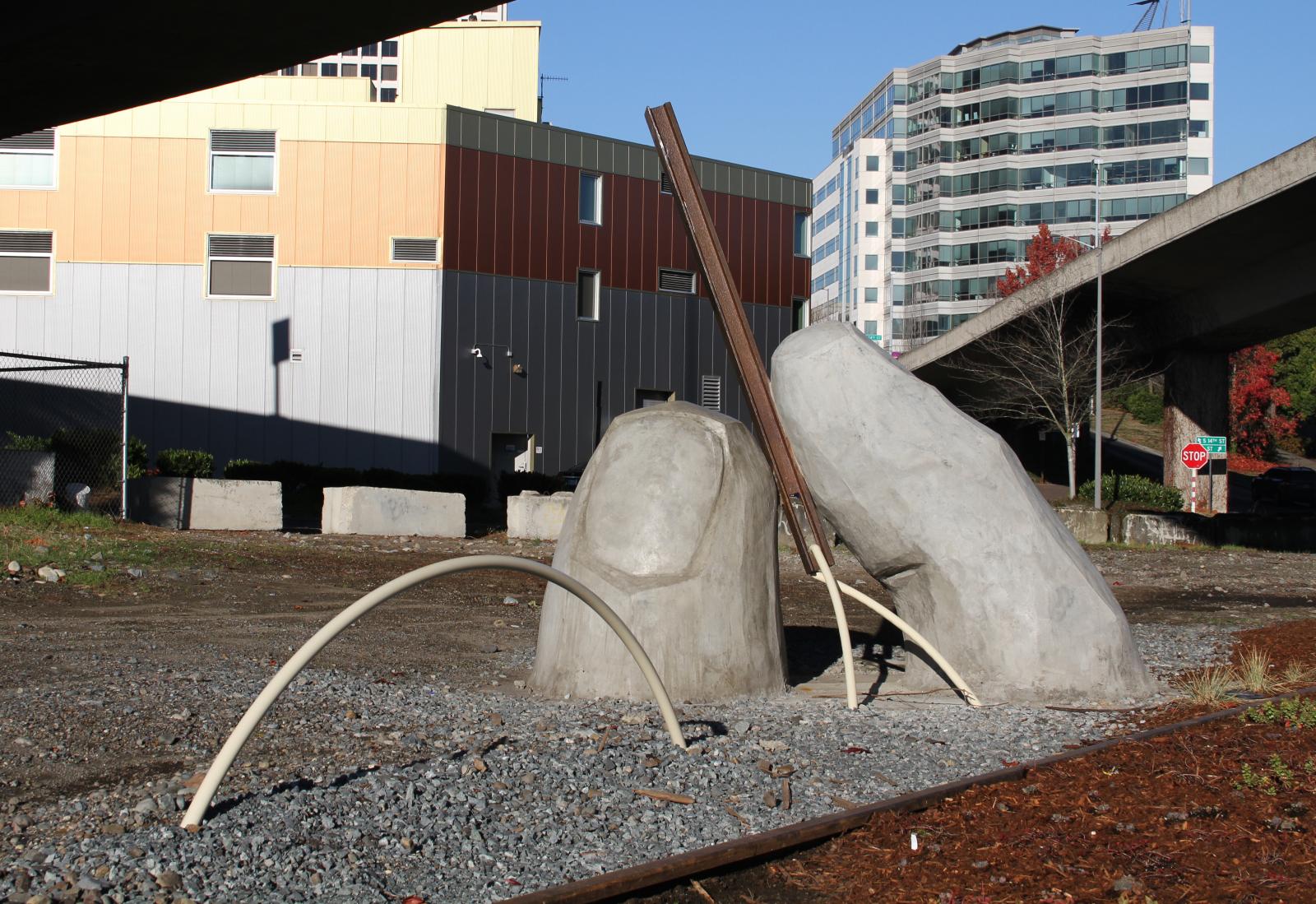 Where the Rails Meet the Sails, 2017 | Courtesy Rotator
Where the Rails Meet the Sails calls attention to Tacoma's long history as a connecting point for people, places, and goods. In what ways does the city continue that tradition today?
About the art+
Part sculpture, part mural, Where the Rails Meet the Sails takes its title from a late 1800s promotional slogan for the city of Tacoma.
Placed at the intersection of tribal lands, waterways, and railroads, this work symbolizes the interconnectivity of life in Tacoma. Acknowledging the region's more recent prominence as a railroad and shipping hub, the artists used materials associated with those industries. Notice the salvaged piece of steel rail that serves as a larger-than-life sewing needle. The mural on the column behind you includes typography and graphic elements popular in the late 1800s.
Historical context+
How did local history inspire this project?
In the late 1800s, Tacoma grew as an international shipping port due to its deep waters and miles of tideland waterfront along Commencement Bay.
In 1873, Tacoma became the western endpoint, or terminus, of the Northern Pacific Railroad, which connected Puget Sound to the Great Lakes.
The intersection of a transcontinental railroad and large port established Tacoma as a prime location for the international transfer of goods such as lumber, coal, wheat, and hops from the United States, and tea, straw goods, rice, and silk from Asia.
With the construction of the railroad, elaborate marketing campaigns were designed to sell real estate and attract people to Tacoma from the Midwest and East Coast. One campaign described Tacoma as the place "where the rails first meet the sails" —highlighting the intersection of port and railroad. Another campaign, the Star of Destiny, advertised regional features such as "no tornadoes nor hurricanes, no poisonous bugs nor reptiles, and nights always cool and conducive to sound sleep."
Meet the artists+
Rotator Creative is an agency located in Tacoma, working at the intersection of art, advertising, and community building.
Lance Kagey is best known for his Beautiful Angle street-art posters. They use poetry, design, and antique typefaces to celebrate Tacoma, much like his first permanent public art piece. For Kagey, Where the Rails Meet the Sails is a meditation on how the world is an incredibly connected place.
Mark Alvis, whose great grandfather worked as an advertiser in Tacoma, marvels at the opportunity to use his own design skills to commemorate the efforts of his ancestor and others like him.
Scott Varga designs everything from websites, to hot rods, to industrial sculpture. He sees a direct connection between the coming of the railroad in 1873 and the proudly working-class, global city Tacoma has become.