Working Forward, Weaving Anew
Artist: Jessilyn Brinkerhoff, Esteban Camacho SteffensenMedium: Acrylic paint, metalCommissioned by the City of Tacoma and funded by the Washington State Heritage Capital Projects Fund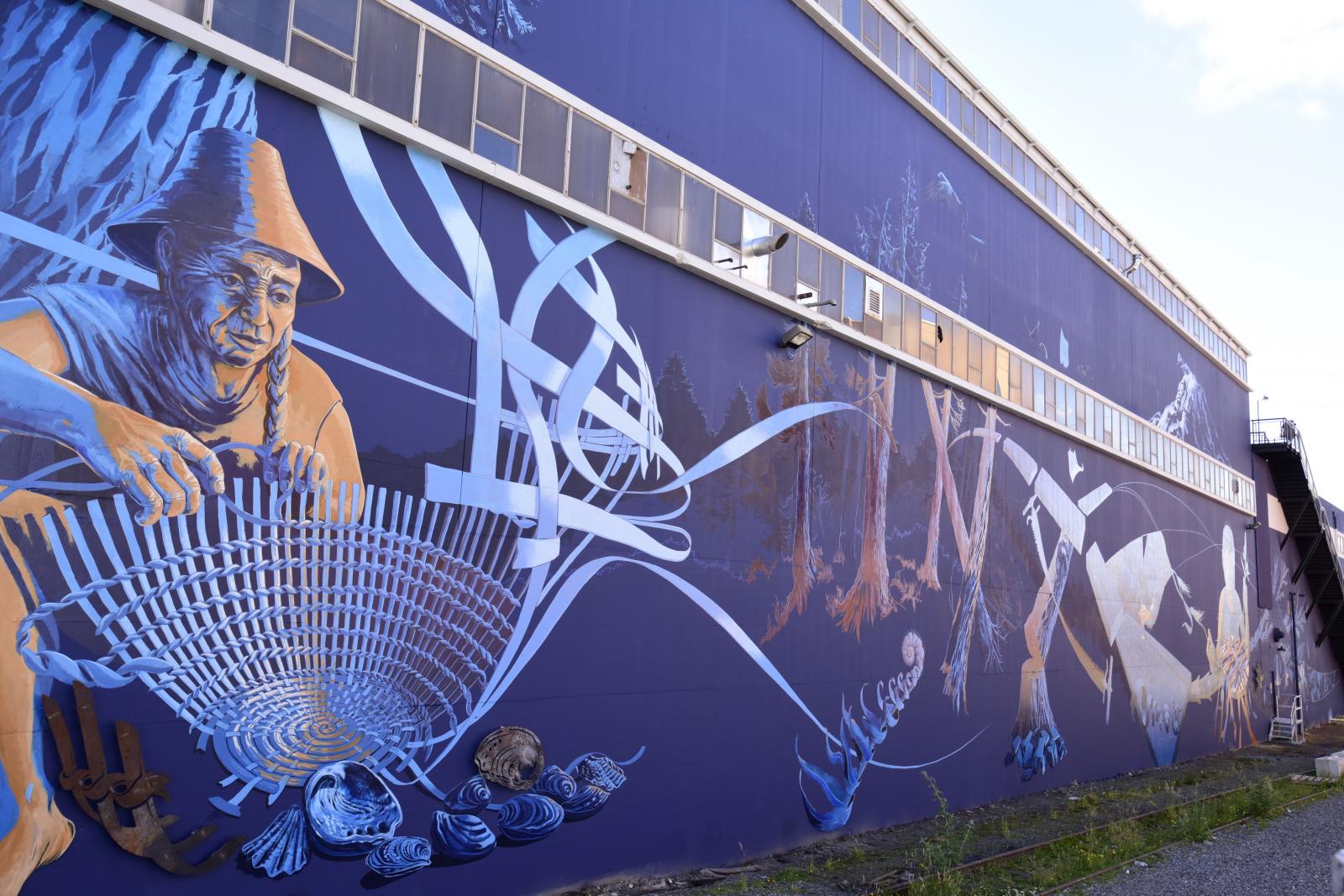 Working Forward, Weaving Anew, 2017 | Courtesy Kolibri
Working Forward, Weaving Anew calls attention to the abundant natural resources of this region that have sustained people throughout history. Think about the native animals and plants depicted in the mural. How do you and your family benefit from some of them today?
About the art+
Esteban Camacho Steffensen and Jessilyn Brinkerhoff created this mural through an exploration of the history of production in Tacoma, primarily employing images of wood and weaving. Their design includes a Puyallup basket weaver, clearcutting, furniture making, and a person creating a contemporary artwork. All of these forms of production are intimately connected with the history of this place, from the massive cedar trees that once stood along this corridor to the furniture shop that occupied buildings in the surrounding warehouses.
Working Forward, Weaving Anew is a mural designed to honor cultural traditions, the natural environment, and our need for new harmonious and sustainable paths forward into the future. The muralists worked closely with representatives from the Puyallup Tribe to ensure the cultural imagery in their artwork is respectful and accurate. This 50-foot-tall mural was hand painted in a span of 6 weeks with help from a team of nine Native American artists: Bruce Speakthunder Berry, Andrea Bob, Lloyd Neeka Cook, Anthony Duenas, Kanani Miyamoto, Ariella Pool, Elisabeth Tail, Charles Taylor, and Paul Valencia.
View a closeup video of the mural showing the artists at work.
Historical context+
How did local history inspire this project?
The Puyallup Tribe of Indians, the original caretakers of this region historically, lived in villages from the foothills of Takoma (Mt. Rainier), or təqʷubəd in the Twulshootseed language, to the shores of Puget Sound. They thrived by fishing, hunting, and harvesting while preserving the natural environment. Master weavers, they created many items from cedar bark and roots including baskets used for cooking, gathering clams, and other daily tasks.
Non-Native settlers colonized the region in the mid-1800s, bringing about a dramatic change in the local landscape. Many old growth forests were cut down and lumber mills sprang up along the waterfront. Skilled as woodcarvers, Euro-American immigrants used the plentiful fir, pine, and cedar trees for furnituremaking and boat-building.
Meet the artists+
Jessilyn Brinkerhoff and Esteban Camacho Steffensen are muralists and collaborative public artists. Their work flows out of conversations, and tells awe-inspiring, larger-than-life stories. In this case, their conversations with local historians and representatives from the Puyallup Tribe inspired this mural, which was conceptualized and refined in 20 different versions of the design.
To create the final mural, the artists used their full artistic arsenal: sketching, painting, photography, and graphic design. As they designed, the artists relied on historic photos, documents, and artifacts to accurately capture and weave together this complex array of stories.
Visit Jessilyn Brinkerhoff's website.